A search operation is due to begin in a forest in France for the body of one of Northern Ireland's Disappeared.
Seamus Ruddy, a teacher from Newry, Co Down, was abducted from Paris, murdered and secretly buried by republican paramilitary group the INLA in 1985.
His body, thought to have been buried in a forest in northern France, has never been found.
A fresh search for his remains will begin today in a forest at Pont-de-l'Arche outside Rouen, the commission set up to locate victims' remains has confirmed.
The Disappeared are those who were abducted, murdered and secretly buried by republicans during Northern Ireland's Troubles.
Searches have been carried out by the Independent Commission for the Location of Victims' Remains (ICLVR), which was set up to recover the bodies of those murdered and secretly buried, mainly by the IRA, in the 1970s and 1980s.
There have been three previous searches in the forest area for Mr Ruddy, the most recent by the ICLVR in 2008.
A team of searchers from the ICLVR travelled from Ireland to France over the weekend to prepare for the search.
Geoff Knupfer, the former police officer leading the hunt, said he was satisfied the information received by the ICLVR about the location of Mr Ruddy's remains is "as accurate as it can be given the passage of time".
Mr Knupfer also headed the team that found Disappeared victims Brendan Megraw in 2014 and Kevin McKee and Seamus Wright in 2015.
"I am convinced that there is a genuine desire on the part of those supplying the information to get this resolved by finding where Seamus is buried," said Mr Knupfer.
He added: "As in other cases fresh information that refines what we already know is crucial. Everyone we have found to date has been in the area where we were told that they were.
"It is always a question of narrowing that down to a precise location. I really hope that we can do this again and find him."
Mr Ruddy's sister Anne Morgan said: "Seamus disappeared almost exactly 32 years ago on 9 May 1985.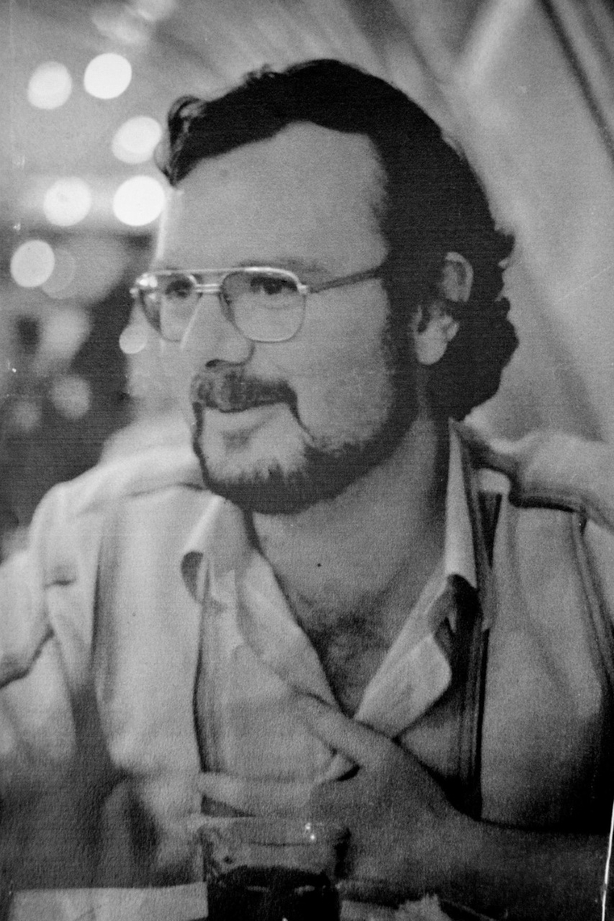 She said: "All we can do is what we have been doing over these long years since which is to pray that one day he'll be found. Hopefully that day will come as a result of this search.
"All we want is to bring Seamus home to Monk's Hill to be buried with our mother and father."
Despite extensive and painstaking searches, the bodies of four out of 16 people listed by the commission set up to locate victims' remains have never been found.
In addition to Seamus Ruddy, the remains of Columba McVeigh, Joe Lynskey and Robert Nairac have yet to be recovered.
The commission has asked anyone with information to contact them in complete confidence on 00800 555 85500, by writing to ICLVR, PO Box 10827, Dublin 2, or via iclvr.ie.
Source: RTE News
The leader of the Catholic Church in Ireland has told a Palm Sunday service for families of the Disappeared that there is still hope that information will help them find their loved ones.
The Archbishop of Armagh, Eamon Martin, spoke during a special service at St Patrick's Cathedral in Armagh.
Families of the Disappeared said they welcomed his comments.
Over the past 16 years, the Independent Commission for the Location of Victims' Remains (ICLVR) has searched for 16 people who were officially listed as "disappeared".
The remains of 12 of the victims have been recovered and formally identified to date.
Four people have not yet been found - Joe Lynskey, Columba McVeigh, Robert Nairac and Seamus Ruddy.
Archbishop Martin told the congregation there was still so much to be done to uncover the truth of what happened to many victims during the Troubles, and he called for a "truth-recovery mechanism" to allow people to come forward with information.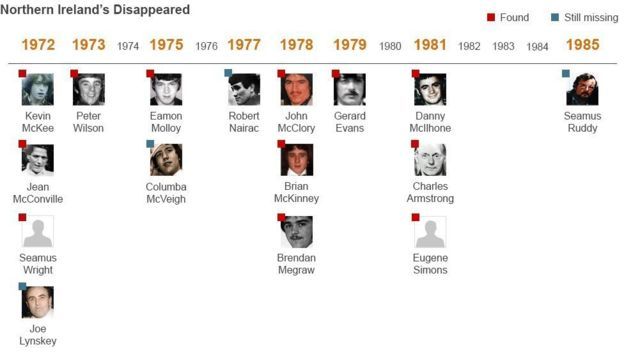 "Even in the absence of a formal mechanism, I am confident that there are trustworthy people in society and in the churches who would be willing, and could be powered and enabled, to accept and sensitively share information in this regard," he said.
Speaking after the service, he added: "One of the difficulties of the terrible things that happened in the past is that they don't just disappear with death.
"They are handed on to children and to grandchildren and those hurts, those deep wounds and traumas, fester and continue and block progress and lasting peace and justice.
"We're talking about people on all sides, people who pulled the trigger, who planted a bomb.
'Basic human right'
"Other people who maybe kept watch, who colluded. People who intimidated. And I actually think that they too will find peace if they are able to unburden themselves of some of the things that they did.
"I believe there are people who would be very willing to become involved in an information retrieval process that would allow the grief of families to be quelled, which would allow people to move on there are many people among those in the church and others in society."
The comments were welcomed by the brother of Columba McVeigh, one of those who has not yet been found.
"Information is the key to recovering these bodies, there's still four left so we need some information to get the commission back digging," said Oliver McVeigh.
There were still people in the North Monaghan area who he believed had not yet come forward with information, added Mr McVeigh.
"The basic human right is for a burial of those who die. And we saw a number of weeks ago in Derry (at Martin McGuinness' funeral) the importance republicans place on death, committal and burial," he said.
"So we're asking the same. We just want to get my brother as the other families want to get their relatives as well, to be able to bury them in a grave and go and visit that grave like everyone else does."
Philomena McKee, whose brother Kevin McKee was located in 2015, said the annual service was a source of support for the families.
"With the Disappeared's families, it's like one big family now. Everybody knows what everybody's going through. And even though my brother's been found, I still know what these people are going through."
Source: BBC News
The families of Disappeared victims in Northern Ireland have launched a renewed appeal for information on International Day of the Disappeared.
Many victims were executed and disappeared in secret at the height of the Troubles, with some bodies never recovered.
Sandra Peake from the Wave Trauma Centre said that Tuesday would shine a light on those cases.
"International Disappeared Day is recognised around the world in areas where there has been conflict and people have sadly been abducted and not seen again," she said.
"I think it's of great significance here when we look at cases of people who have been disappeared and who remain disappeared.
"Today is really about remembering those cases and for people to think about what they can maybe do to help bring them home to their families."
Anne Morgan's brother Seamus was disappeared by the INLA in 1985.
"At the moment, we have a lot of hope," she said.
"That is because the forensic team are doing very, very good work behind the scenes and they're gathering as much information as they can which we rely on and which is so important.
"I am confident and hopefully we will have another search."
Likewise, Oliver McVeigh's brother Columba has never been found, after being disappeared in 1975.
Oliver said that his family have been promised help on many occasions.
"There's more people that could come and give some information, specific information, because the Commission have done as much as they can at this present time," he said
The fight continues to uncover the information, the missing pieces of the picture that could lead to a breakthrough, with a special solidarity formed between those families in their agonising wait.
"I was very struck last year in relation to one of the families whose loved one was returned, when they said that until they were all returned, it is not completed."
The Disappeared were never intended to be found, but though they are gone, their families continue to pursue their whereabouts, so that they can be laid to rest.

The leader of the Catholic Church in Ireland has made a new appeal to those with sensitive information about killings and other activities during the Troubles to find a way of helping families who suffered.
Archbishop Eamon Martin said trustworthy people in society and in the churches might be willing to receive such information in the absence of formal mechanisms being established.
Speaking at a mass in Armagh, Archbishop Martin said there are people on all sides, in Ireland, Britain and beyond, who carry secrets.
Some "pulled the trigger, planted the bomb, blindly followed orders or gave the command for death or punishment".
Others "willingly drove a car, kept watch, spread fear, collected money or information, sheltered combatants, colluded or covered up, destroyed evidence or intimidated witnesses", he said.
The Catholic primate referred to what he called "awful, terrible times" when shocking and horrific things happened.
He said: "There must be many people walking around today who know in their hearts that the information they have locked down inside them is capable of unlocking the uncertainty and grief in families."
He then referred to how sensitive information might be shared.
"Those who were involved must, of course, find their own peace with God and with society. For our part, we need to find a mechanism of truth and information retrieval which will allow more of these people to come forward so that many more families can be set free from the agony of waiting and wondering, 'why?'.
"Even in the absence of a formal mechanism, I am confident that there are trustworthy people in society and in the churches who would be willing, and could be empowered and enabled, to accept and sensitively share information in this regard."
He made his remarks at the annual Palm Sunday mass for the families of the Disappeared - the 17 people who were abducted, killed and secretly buried by republicans during the Troubles.
The remains of 13 of the victims have been recovered - mainly through information given by the IRA to the commission set up by the Irish and British governments to help the families of the deceased.
But four bodies have yet to be recovered: The remains of Belfast man Joe Lynskey, Co Tyrone born Columba McVeigh, British Army captain Robert Nairac who was abducted from a south Armagh pub and Seamus Ruddy who was killed by the INLA in France.
Archbishop Martin made a fresh appeal for help to bring closure to the four families whose loved ones were disappeared.
His remarks came on the eve of the resumption of negotiations at Stormont where, so far, parties have been unable to reach agreement on the formation of a new power-sharing administration.
One of the areas of disagreement in the talks is the structures and initiatives that are required to deal with legacy issues.
Source: RTE News